Pre-School 2019 - 2020
Mrs Burton
I am extremely excited about starting my third year as Pre-School Teacher at Rode Heath. I am passionate about Early Years education and feel honoured to welcome new parents and their children. We have had two highly successful years and this year we are fortunate enough to have two new Teaching Assistants to add to our already dynamic team!
I have been teaching in Cheshire for over ten years now and have enjoyed a varied and fulfilling career teaching children from Pre-School age, right up to Lower Key Stage Two. As an experienced EYFS teacher I pride myself in placing each family's needs first and strive to make learning fun and exciting for each individual.
I am passionate about the arts and have a varied artistic background in music, visual art and drama. I am a classically trained vocalist and hope to join a local choir and continue performing in the future, right now I am focussed on the continually developing Pre-School and of course my family!
Outside of school, my two little boys keep me very busy. We spend most of our time outdoors on trails around the local woods, exploring natural habitats, playing football and adventures at the park. As a family we treasure the precious time we get to spend together and especially enjoy story time.






Mrs Soutar
Mrs Soutar – Pre-School Teaching Assistant
Hi I'm Karen. I live in Holmes Chapel with my husband Duncan and three lovely children- Izzy (10) Harry (8) and Emma (4). I've spent the last 10 years looking after my children and child-minding other peoples! I love the fun and unpredictability of working with Pre-Schoolers and enjoy seeing them progress and master new skills.
I'm looking forward to starting a new year at Rode Heath Pre-School and meeting all the parents and children.

Mrs Moss-Brookes
Mrs Moss-Bookes – Pre-School Teaching Assistant
Hi I'm Lisa. I'm extremely excited to be part of the Pre-School team at Rode Heath. During the Last few years I have enjoyed being a stay-at-home mum to my three young children. Prior to that I taught in a Primary School and thoroughly enjoyed working within the Early Years.
Outside of school my three children keep me very busy and we love exploring new places and enjoying exciting days out together.

Miss Jackson
Miss Jackson, Pre-School TA and Deputy Lead Manager of All Stars
I am very excited to be starting my first year at Rode Heath Pre-School. I will be taking on the TA role in Pre-School on Thursday's and Friday's and I am so looking forward to leading the team at our fabulous All Stars breakfast and after school clubs.
I have had many years working with young chilldren and recently started working with children with additional needs. Also, I am a qualified 'Relax Kids' Coach which enables me to teach children to learn to manage their emotions through play.
Miss Belcher
Hi I'm Kerry, I live in the village very close to school with my partner and daughter Chloe (4) she also attends Pre-School currently. I've spent the last two to three years gaining my Early Years Practitioner qualifications at Rode Heath where I thoroughly enjoy working in Pre- School each day. I also work in the All Stars breakfast and after school club Monday - Wednesday. I look forward to starting a new term and meeting all the parents and children.
Nurturing and supporting the very youngest of minds in our special community at Rode Heath...
I'm writing to send the biggest 'hello and hugs' to our wonderful children and families staying united and staying safe within our Rode Heath Pre-School community. Our Pre-School Team has now been given the opportunity to communicate and support you on-line.
One thing that remains close to our hearts is your child. We miss you all and miss being with you and watching you grow, change and play togther. Over this next couple of weeks you can pop on to our webpage to discover links to websites that will support you and your child at home.
Gemma Burton x
Pre-School Teacher
New update: you can now email me at this address:
preschool@rodeheath.cheshire.sch.uk
I would love to hear from you and see what you have been getting up to. I will try my best to get back to you a soon as I possibly can.
Take care and stay safe together
---
---
Look and find new great ideas to support your child at home...
Twinkl.co.uk
This website is great for ideas to keep your little ones busy. Click on the 'Parents Hub' tab and then access reading resources and lots of help for getting ready for Reception Class.
here is an example of some of the I can statements:
• I can use a spoon, knife and fork.
• I can open my lunch box as well as wrappers and packaging.
• I can wash and dry my hands.
I can wipe my nose.
• I can put on/fasten my coat and shoes.
• I can use the toilet.
• I am learning to dress/undress – this will help me change for PE.
• I can follow simple instructions.
• I am learning to write my name.
• I enjoy listening to stories and rhymes.
• I can count a small number of items.
• I can recognise some numbers.
PhonicsPlay
https://new.phonicsplay.co.uk/
Lots of information for parents about phonics including: what exactly phonics is, how it is taught in UK schools and suggestions for helping pre-schoolers prepare for learning phonics. The subscription service is currently free.

Username: march20
Password: home
Here are a few little games that will help your child with learning Phase 1 phonics skills:
Welcome To The Zoo This game is good for: Listening and copying
Hickory Dickory Dock This is an interative version of the rhyme with sounds and actions.
Super Smoothie This game is great

for practising 'hearing and saying' the first sound in a word. Click on an image such a SUN then find the words that start with the same sound.
Click on the 'Resources' tab to find printable Phase 1 Phonics games, rhyme matching cards and alliteration matching cards. Enjoy!
Where's Spot? by Eric Hill
https://www.funwithspot.com/
Create your own Spot Story!
Click on a variety of scenes then add your favourite characters to create your own story!
When you've created your story, why not print or share your story with your family and friends?
You can also enjoy can engaging with Spot online too with interactive games and downloadable activities. There is aloso the opportunity to bake with Spot in his online game and then bake together using one of Spot's recipes. Have lots of fun!
hungrylittleminds.campaign.gov.uk
The government has designed a fantastic website with new ideas and activities specifically for 3-5 year olds. It is really easy to use and covers everything from establishing a simple and effective daily routine to ways to help your child learn new skills.
When you click on '3-5 year olds' there is advice on great little games to play and Apps you can download such as 'CBeebies Storytime' and 'Playtime Island'There are also specific learning Apps such as 'Lingumi' to develop language and speaking skills and 'Teach Your Monster to Read.' The government has also added further information about websites such as Small Talk (https://small-talk.org.uk) with ideas and activities from the National Trust. Look for the 'Play' section where you can enjoy an easy Memory Game or act out the story of The Bear Hunt.
https://www.worldbookday.com/videos:
This website has videos of the authors reading their stories to us, which is exciting in itself. When you upload the page just look across the top of the page and click on the videos tab. The stories on this webpage will be familiar to your child as we often share them in Pre-School sessions. Ask if they can recall certain aspects of the story or which part was their favourite. There are also stories with rhyming phrases such as 'Hide and Seek Pig' or 'Postman Bear', encourage your child to repeat and recite with you. Enjoy and have lots of fun!!

Ask questions when you're reading together such as:
"What can you see on this page?"
"How do you think the characters feel?"
Try asking your child to tell the story. They can 'read' the pictures to you and talk about what's happening on the page.
Don't forget to keep smiling and keep singing
, this fantastic website has everything you need to support their learning of new rhymes and songs at home:
https://www.bbc.co.uk/teach/school-radio/nursery-rhymes-songs-index/zhwdgwx
This week have a go at singing a long to this counting song:
https://www.bbc.co.uk/teach/school-radio/nursery-rhymes-hickety-pickety-my-red-hen/zvymd6f
Hickety Pickety my red hen
Hickey Pickety my red hen,
She lays eggs for Farmer Ben,
Farmer Ben comes every day,
To count how many eggs lie in the hay.
POP, POP, POP, POP, POP
She's laid FIVE eggs today!
Hickey Pickety my red hen,
She lays eggs for Farmer Ben,
Farmer Ben comes every day,
To count how many eggs lie in the hay.
POP, POP, POP,
She's laid THREE eggs today!
Hickey Pickety my red hen,
She lays eggs for Farmer Ben,
Farmer Ben comes every day,
To count how many eggs lie in the hay.
POP, POP, POP, POP
She's laid FOUR eggs today!
Hickey Pickety my red hen,
She lays eggs for Farmer Ben,
Farmer Ben comes every day,
To count how many eggs lie in the hay.
POP, POP
She's laid TWO eggs today!
Why not have a go at drawing your own eggs...count how many Higgety has laid each day...then practise forming your numbers inside ( just use curved or straight lines to practsie forming each number)...why not make an egg number line or you could cut out your eggs and hide them around you house or garden too!
Playing games to support maths
Playing games is a really fun and easy way for parents to familiarise children with numbers and support their learning.
Positional Language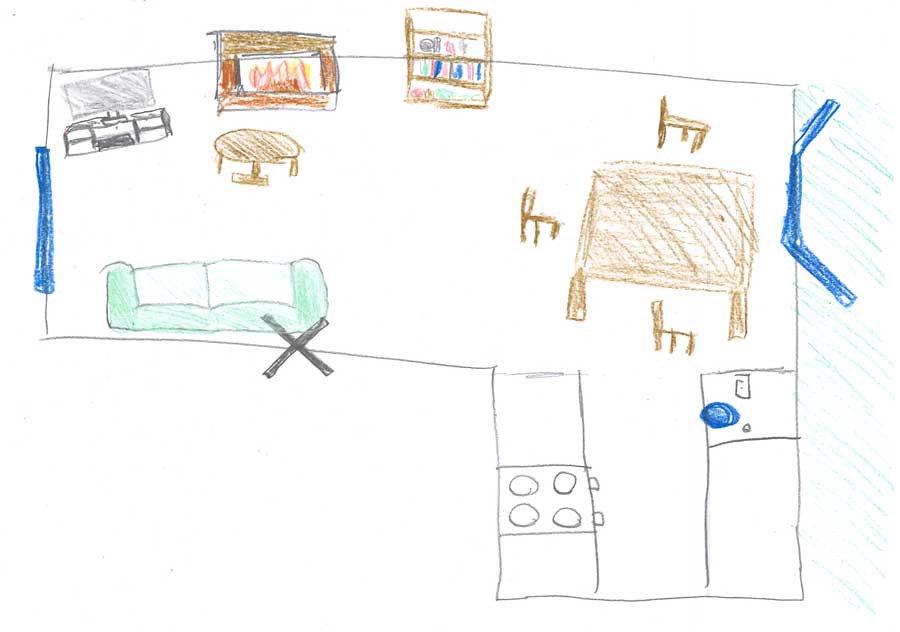 Practise using; behind, inside and under in every day play. Hide toys for your child, giving them clues for where to look. Is your teddy behind the sofa? Is your teddy under the table? Make it more challenging by asking your child to hide things themselves and give you clues. Why not make a simple map to follow or a tick sheet to list and draw/write the items. Have lots of fun!
Shape, Space and Measure:
Why not make a simple shape hunt check list and draw shapes that you find around the house and in the garden? When you are completing the challenge practise pointing and physically counting the amount of straight sides and round edges you can see. Why not finish the Shape Hunt with a design challenge and ask your child to build a model using cardboard boxes, Lego, stones from the garden, or draw a shape picture using 1 triangle, 4 squares and 2 rectangles…it's all great practise whatever the result. Good luck!
www.nationalnumeracy.org.uk
www.familymathstoolkit.org.uk
parentkind.org.uk
This website brings together home and school. There are free resources to support learning at home and there is a lot of information to support parents with managing family and work life during the coronavirus pandemic.
Don't forget to keep smiling and keep singing
and stay safe together. xx
---
Files to Download